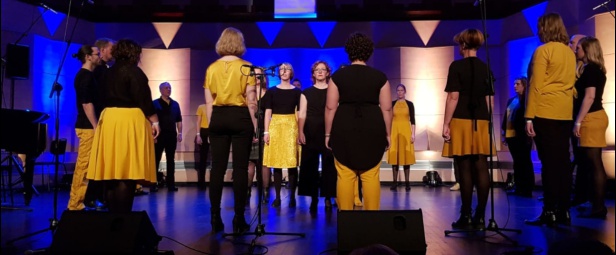 Nederlands
5 years Bladgoud!
On Saturday evening March 14th, Bladgoud will perform a festive lustrum concert to celebrate our 5 year anniversary at the Grand Theatre at the Grote Markt in Groningen. In addition to our conductor Hans Kaldeway on grand piano, for this special occasion we will also be accompanied by a rhythm section with a drummer and bass player. We are looking forward to present a program of our classic and new repertoire in this beautiful theatre. 
Bladgoud proudly looks back on the past five years filled with wonderful performances, successes at festivals, and especially a lot of musical fun inspired by each other and of course by our musical engine Hans Kaldeway. In anticipation of our participation in the Topklasse (Top Class) at the Balk TOPfestival in 2021, we are looking forward to the years to come!
Where: Grand Theatre, Grote Markt 35, Groningen
Start:  20.00
Entrance: 19.30 uur
Pre-sale tickets:
– Regular ticket: € 12,-
– Children up to 12 years old: € 6,-
– Children up to 4 years old: free
Ordering tickets
You can order tickets in the pre-sale by transferring the amount of money of the number of tickets you would like to purchase (per ticket €12,- or €6,-) to:
NL81 RABO 0190 5337 57 to Bladgoud.
Indicate your e-mail address and the number of tickets (regular and children's tickets) that you would like to order. You will receive confirmation of your purchase including an order number by e-mail within a few working days. You need your order number in order to enter the concert hall. Please, make sure that you enter the correct e-mail address during the transfer.
Note: It may not always be possible to use the @ sign during the transfer. A space or the word 'at' may be used as well. Examples: koorbladgoud gmail.com or koorbladgoud at gmail.com. If you encounter any problems, please contact us through our contact form.
Pre-sale tickets can be bought until Thursday March 12th.
Tickets at the door:
– Regular ticket: € 15,-
– Children up to 12 years old: € 7,50-
We hope to welcome you on March 14th!
---


For the Lustrum Concert a subsidy has been received from the Kunstraad Groningen and the Prins Bernhard Cultuurfonds.
Bladgoud is supported by the municipality Groningen with the Basissubsidie Amateurkunst.