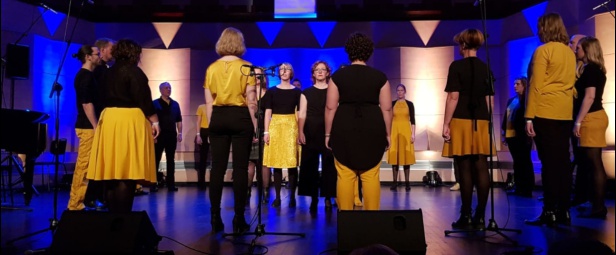 Nederlands
— POSTPONED —
28-11-2021: Unfortunately we have to postpone our lustrum concert once again because of the corona pandemic.
Everyone who bought tickets should have received an email about this. In case you didn't receive the email, please contact us through the website or by email.
As soon as a we have a new date for the concert, we will let it know.
5 years Bladgoud!
On Saturday evening March 14th, Bladgoud will perform a festive lustrum concert to celebrate our 5 year anniversary at the Grand Theatre at the Grote Markt in Groningen. In addition to our conductor Hans Kaldeway on grand piano, for this special occasion we will also be accompanied by a rhythm section with a drummer and bass player. We are looking forward to present a program of our classic and new repertoire in this beautiful theatre. 
Bladgoud proudly looks back on the past five years filled with wonderful performances, successes at festivals, and especially a lot of musical fun inspired by each other and of course by our musical engine Hans Kaldeway. In anticipation of our participation in the Topklasse (Top Class) at the Balk TOPfestival in 2021, we are looking forward to the years to come!
---


For the Lustrum Concert a subsidy has been received from the Kunstraad Groningen and the Prins Bernhard Cultuurfonds.
Bladgoud is supported by the municipality Groningen with the Basissubsidie Amateurkunst.